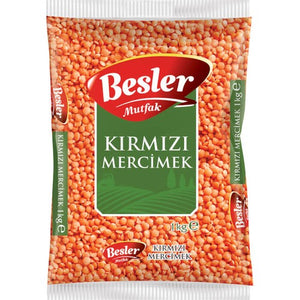 健康小食中的紅色小扁豆已在Bizim Toptan中取代。如此之多,以至於所有基本食品都必須以合理的價格供應。結果,客戶在其中進行選擇並開始訂購。有了它,您將能夠以經濟的價格購買基本食品,並在短時間內使用它們。

其他選擇,例如快速運送的Besler廚房紅扁豆1公斤。如品牌所提供的,也可以購買食品。紅扁豆價格合理。小扁豆因其對消化系統的好處而聞名,繼續以紅色和綠色替代品歡迎顧客。

紅扁豆也富含蛋白質,通常用於湯中。如此之多以至於小扁豆已在我們國家的流行湯中佔據一席之地。結果,可以用土豆和胡蘿蔔等各種蔬菜製成營養價值高的湯。除此之外,還可以包括小扁豆沙拉或餐點。例如,扁豆肉餅是我們必不可少的食物之一。它是我們有益的風味之一,帶有大量的綠色植物。
Red lentils, which are among the healthy staple foods, have taken their place in Bizim Toptan. So much so that it is essential that all basic foods are served at reasonable prices. As a result, customers make a choice among them and start ordering. With it, you will be able to have basic foods at economical prices and use them in a short time.
Alternatives such as Besler kitchen red lentil 1 kg are delivered to you with fast shipping. Food products can also be purchased, as the brand offers. Red lentils come with reasonable prices. Making a name for itself with its benefits to the digestive system, lentils continue to welcome customers with red and green alternatives.
Red lentils, which are also rich in protein, are generally used in soups. So much so that lentil has taken its place among the popular soups of our country. As a result, soups with high nutritional value can be made with various vegetables such as potatoes and carrots. Apart from that, it is possible to include lentil salads or meals. For example, lentil patties are among our indispensable foods. It is one of our beneficial flavors served with plenty of greenery.