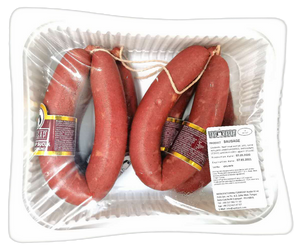 Contents: 100% Beef meat with fat, salt, spice mix, garlic, stabilizer(E452), antioxidant(E301), anti-microbic agent(E250)

Animals are slaughtered in accordance with Islamic rules.  Produced in accordance with T.G.K. Meat, Meat mixture and Meat products regulations.
Origin: Turkey
Keep refrigerated between 0 and +4 C degrees
Produced are packaged in modified air. Please consume in 2 days after original package is open.
Pork meat and related products are not used in our products.
HALAL FOOD
1 box with 4pcs.